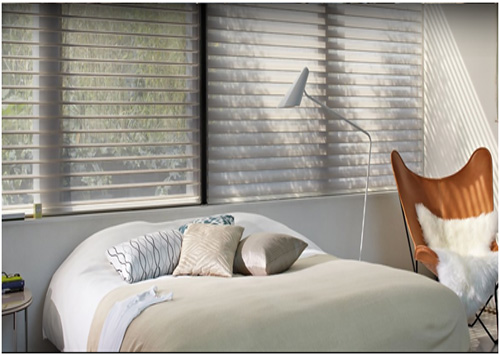 CLEVER WINDOWS
Silhouette Shadings operate like a conventional blind, but with technical know-how to add a whole new level of sophistication. A clever blend of on-trend design aesthetics and practicality, the innovative material used allows you to see outside, while restricting the view from the street for privacy.
VERSATILE FABRICS
Made from 100% anti-static, dust-resistant polyester, Silhouette® Shadings are durable and easy to clean. They come in two opacities. Translucent fabrics gently filter light to provide a warm glow while protecting furnishings from UV light; room-darkening vanes provide complete privacy without totally darkening an environment. In addition, Silhouette® is available in a range of gorgeous fabrics – from metallic Myst to silken French Linen.
PRECISION DECISION
Make your life easier – and your home low-maintenance. Combine Silhouette® with one of our operating systems such as PowerView®, EasyRise, LiteRise, or ULTRAGLIDE® Lifting Systems to make it even simpler for the household and safer for the little ones (and furry friends).
THE 'S' WORD
Silhouette® Shadings come with Luxaflex's signature "S-Vane". This unique product offers a huge range of colours in both room-darkening and translucent fabrics. They can be opened for a full, soft focus view, closed for privacy or tilted for light control. And you can coordinate the tones of Silhouette® Shadings with Luminate® Privacy Sheers to achieve a consistent look and colour palette throughout your home.
CLEANING MADE SIMPLE
Silhouette® Shadings naturally repel dust and dirt, making them durable and easy to clean. All that is required is a dust or light vacuum to keep your shades looking beautiful.