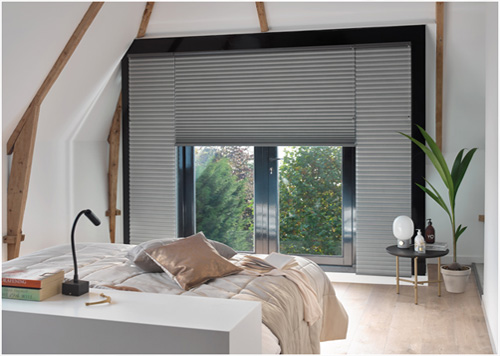 Duette shades feature a unique honeycomb construction that makes these shades soft, durable, and highly energy efficient. The shades built-in insulating characteristics help keep the heat out in summer and the warmth in during winter. Highly versatile, Duetteshades are available in hundreds of colours and a wide variety of semi-opaque, and opaque fabrics. The perfect solution for windows of almost any size or shape.
The shades feature Child Safe systems including Smartcord, LiteRise, motorized systems, chain tensioner and cord cleat.
At a glance
energy saver
conservatories
room darkening
Get more inspiration and personal advice
Waterfront Interiors is custom made for you. Please contact us for more information.
Colours & materials
Duotone and Full tone
Duotone fabrics provide a white street side colour for enhanced solar reflection and consistent street side appearance. Full tone fabrics offer the same colour on the front and back.
Another option, our Duette shades, offer regular pleats at the front of the blind with a simple flat look at the back for an even, stable, and durable pleat pattern.
Product variations
25 mm
or small to medium-sized window and extremely suitable for mounting close to the glass. These Shades can even be mounted on sloping glazing beads of at least 8 mm deep.
32 mm
For a robust look for medium-sized and large windows, there are 32 mm wide Duette® Shades. Suitable for mounting on the window frame.
64 mm
Especially suitable for large windows.
64mm Architella
Enhance your comfort with the unique cell in cell construction.
Multiple layers of fabric improve insulation at the window. Create a beautifully even pleat and filter daylight to prevent colour and texture from fading.

Energy Saver
Discover in how you save energy and comfort with Luxaflex window coverings.

Skylight blinds
Duette Shades are particularly suited to cover skylights and conservatories.

Designed with Safety
Making products safer for homes is an integral part of our design philosphy.

Motorisation
Oprate your shades or blinds at the touch of a button – with a remote control operation or wall switch.