Waterfront Interiors offers the finest and widest range of curtain poles for you to choose from and here you will find wooden curtain poles, metal curtain poles and Eyelet curtain poles. There are also categories for bay window curtain poles and corded curtain poles.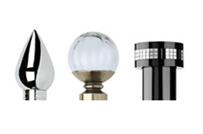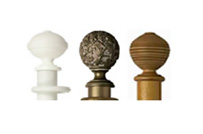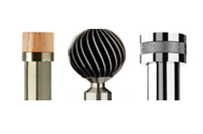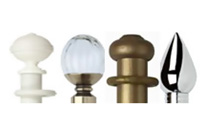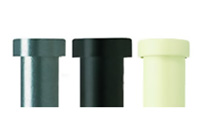 Ceilling Fix Curtain Poles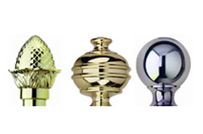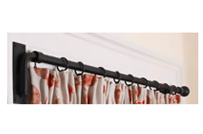 Metal Curtain Poles
We are confident that you'll not only find the best deals on metal curtain poles in chrome, steel & silver but also here you will find other metal colours like Antique Brass, contemporary Black Nickel and traditional Black and Wrought Iron in a variety of diameters.
Wooden Curtain Poles
Wooden curtain poles popularity continues unabated as more and more exciting new themes, coloursand finials are introduced. New trends continue to come into the marketplace and to that end we have recently introduced our new Contemporary Wood Curtain Poles section where you will find natural warm earthy colours.
Bay Window Curtain Poles
Bay windows come in many different shapes and sizes providing a wonderful aspect to any room and for many the prospect of curtaining a bay window and finding a suitable bay curtain pole or bay curtain track can be challenging. To help make it easier Waterfront Interiors will tailor different products to help you meet your needs.
The Bay Poles can be made to measure and pre-bent for you specific to your bay window shape and sizes or the components can be purchased to build your own kit to fit your bay window.
Eyelet Curtain Poles
Eyelet curtains are one of the most popular types of curtain, as they are incredibly easy to hang and look great up. If you want to make sure your curtains look even more stylish, why not take a look at our eyelet curtain poles now?
We have a great selection of curtain poles for eyelet curtains, so you can choose ones that best match your decor and curtains. Our curtain poles are affordable, yet are high in quality and are available in a variety of popular colours.
The ever popular eyelet curtain poles brings something different to the range and also has an extendable bracket if a longer reach from the window is required. With other colours like Black Nickel, Chrome and Antique Brass you will be spoilt for choice.