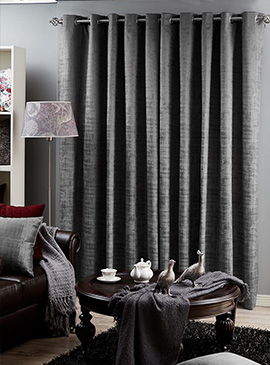 Our collection ready madecurtains presents a delightful medley of design, texture and colour which are just perfect to make a style statement in any room.
Designed and created using high quality fabrics and superior protective curtain linings, we work very closely with great textile mills to produce beautiful designs that are exclusive to SLX, opening a wealth of possibilities for any interior design scheme. We have a range of colours and sizes to suit your requirements, from 66″ x 90″ to wide width curtains 132″ x 90″.
We carefully select an appropriate lining for each of our curtain fabrics to ensure that our ready made curtains hang perfectly, look great and enjoy a long life.
Features
We use high quality metal eyelets in a standard size of 40mm. We also use a superior buckram stiffening in our headings to ensure our curtain tops look great and don't sag.
All of our eyelet ready made curtains, are also available as a Pencil Pleat. These are altered from an eyelet heading, by our fantastic alteration team.
Each pair of ready made curtains is encapsulated in our innovative Hanging Pack, which showcases the full beauty of our ready to hang curtains, whilst eliminating the 'box' crease from conventional curtain packaging.
Info & Care
Please carefully make note of the care instructions on your Ready Made Curtains. Care Instructions will be included in the Hanging Pack.